About Us!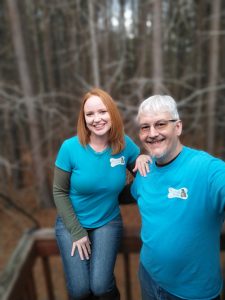 My name is Christina Walker and I am the owner of Top Dog Pet Sitter. After loving and caring for animals our entire lives, my husband Mike and I decided to turn our love into our livelihood by pursuing pet sitting full time in September 2005. We currently live in Villa Rica with our two fur babies Button & Nickel. Our kitties have their own unique personalities and we really do consider them family. They mean the world to us and we know first-hand the anxiety of leaving our babies behind when we go out of town. Having a pet sitter we can trust and depend upon is paramount to our peace of mind in those situations. This is one of the reasons Top Dog was formed!
I have always grown up with animals and found my passion caring for them while pet sitting for my Brother Jim "Bubba" while I was in college. My brother had several Smooth Fox Terriers so I learned very detailed routines. From there, I began to gain further experience through referrals where I began caring for other breeds and animals. Pet sitting began to become a way of life for me!
I graduated from Chattahoochee Technical College in 2004 with a Business & Office Technology Diploma. I've worked for years in the Administrative field before deciding to leave my corporate job in June of 2012 to pursue pet sitting at Top Dog full time!
Mike graduated from Chattahoochee Technical College in 1989 with a Graphic Arts Diploma. He has worked for several years professionally in the field of Graphics and Illustration. Mike is our Business Manager handling all of our Accounting, Web Design, Logo as well as spending lots of time in the field loving on the animals.
Together we make quite a team!

Our business has given us the platform to give back and volunteer in our community! We were both members and active volunteers with the Douglas County Humane Society. Mike served as a volunteer on the web design committee and I served on the board for 3 years and President of that organization. The Douglas County Humane Society supports the shelter and helps pet owners in need by offering temporary food from their pet pantry as well as other support. I'm also a member and volunteer with the American Business Women's Association "ABWA" Douglas County Chapter since 2013 and have served on the board.
In our personal time we enjoy reading, hiking, nature, music, art, watching movies (love the classics!), birdwatching, and astronomy. I enjoy singing and Mike loves to play the guitar.