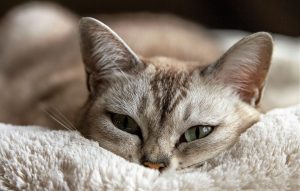 Let's face it, cats can be fickle creatures! If your cat could talk, she would tell you that she would much rather have a staycation at home while you go away vacation, then spend a week in a boarding facility. Cats are homebodies and prefer the comfort of their own domain. Hiring a professional cat sitter to watch Fluffy in the comforts of home, is the perfect solution for you, your cat, and the security of your home!
Professional Cat Sitters Provide Peace of Mind
Professional cat sitters are serious about their job and they are serious about taking excellent care of your cat and your home. They are bonded, insured, and trained in emergency first aid & Pet CPR. Many professionals have completed continuing education and received certifications to ensure your home and your beloved pet is well taken care of.In addition to checking in on Fluffy, a professional will also check on your home to ensure everything is in working order during your reservation. They will also collect the mail, the newspaper, & and packages that are delivered while you are gone. They take the security of your home very seriously and will give your house an"at home appearance" while you are gone by placing out trash & recycle for pick up, rotating lights, as well as opening & closing curtains. Hiring a professional cat sitter like Top Dog Pet Sitter will leave you at ease knowing your home and your feline friend are well taken care of!
Professional Cat Sitters Help Keep Fluffy Safe
Although cats can be pretty self-sufficient, they need daily human interaction and mental stimulation to keep them out of trouble. Cats are curious and can often find themselves in perplexing situations. Keeping Fluffy mentally stimulated is one of the many things professional cat sitters are good at! They know all the fun games and activities your cat enjoys playing. They know what situations Fluffy might get into when left home alone and take precautions to prevent injuries. Top Dog Pet Sitter is serious about your cat's well-being and safety! No one wants to come home and find their cat stuck in a closed bedroom or hanging from the blinds!
Professional Cat Sitters Care About Your Cat
Every cat a professional cat sitter cares for is just as important as the next. They may care for many cats, but they know each of those cats all by name and what each cat prefers to eat! Your feline friend is a part of your cat sitter's extended furry family. They take the care and well being of your cat just as serious as you do. This is not just a hobby to a professional cat sitter, it is a passion and a profession.
Let Christina & Mike treat your cat like royalty while you are enjoying your next vacation! Click here to check out our services page to find out more about our services. Remember, when hiring a professional cat sitter, be sure to check all of their credentials! Professional cat sitters are bonded & insured, CPR First Aid Trained, have a clear background check, and hold other professional certifications and training certificates.
Written by Julie Gajewski, CPPS. Julie has been pet sitting and working in the veterinary industry as both a technician and hospital administrator since 1997. She is a pet business consultant and a guest blog writer for pet sitters across the world. She lives in Florida with her husband and furry children, 2 Pugs and 4 cats. You can find out more about Julie here.